The Secret To Fast & Successful B2B Participant Recruiting
Struggling to find b2b research participants for your study? Our team researched the best solutions & strategies to help you recruit a high-quality panel.
---
"The struggle to recruit increases with the specificity of the professional and what they do."
One of the most significant differences between business-to-business (B2B) vs. business-to-consumer (B2C) research lies in the recruiting. The pool of B2B professional participants is far smaller because they are highly specialized. Additionally, business professionals can be more reluctant to participate in research due to time constraints, wariness of revealing proprietary information, and being less financially motivated by the research incentives.
B2B recruiting presents specific barriers and issues that must be addressed to ensure a successful recruit. Let's look at the steps needed for a B2B recruit.
The Kick-Off: Asking the Right Questions
"You need to recruit individuals who can give you useful feedback."
The first step to a successful recruit—the "kick-off" meeting—should include a deep dive into participant screening criteria.
Asking the right questions goes a long way to ensure that recruits are wholly qualified based on the research needs and objectives. Responses will provide the information necessary for accurate recruiter bids, proposed costs and developing the most relevant screening questions. Getting everything "on the table" initially will help safeguard against added screens, which could mean costly surprises later on.
Screening criteria to review with the client could include:
Job title or level of expertise
Years on the job or in the position
Salary information
Education level
Place of employment
Size of organization
Type of work done
Target population
Demographic requirements
And more, specific-to-the-project criteria
Recruiting: Finding the Right People for the Right Job
"The longer it takes to set up your study, the longer it takes to get your findings and recommendations to the product team," -- Eric Mahlstedt, Global Head of User Research, IBM Cloud, Data & AI
Because B2B recruiting is so specific, the methods used for B2C research recruiting would be ineffective. The options for B2B recruiting are much more limited. The search for the "right" recruiter can be difficult and time consuming.
There are recruiters that specialize in specific industries such as health, finance or tech. Other B2B recruiters use unique methods to identify potential participants including:
Placing ads on social media sites or industry-specific forums
Identifying potential participants using professional networks
Using high-level LinkedIn accounts to identify potential participants based on industry and position
Each of these methods can link interested potential participants to a pre-screening survey to weed out those totally unqualified. Those who do pre-qualify are invited to participate in a short screening call for final qualification, scheduling and confirmation. Usually, many potential participants will need to be screened to identify each fully qualified participant who is also willing and able to participate. The more "niche" the participants you need, the more potential participants will need be screened to find those who fully qualify.
Finding potential recruiters that have availability for your project, bid and price negotiating as well as the actual recruit all take significant time. This can mean that the timeline for the actual research, analysis and report writing is compressed, resulting in a rushed project.
B2B Recruiting Realities: More Time, Higher Costs
"Relying on a mix of recruitment companies, supplemented by online searches could take several weeks—too long for most project timelines—and is often very expensive."
When preparing both your Request for Bid and the final proposal for your clients, address these barriers to recruiting professionals.
Be realistic about the bids. Besides the cost of recruiting professionals being higher than consumers, greater incentives must be offered to assure attendance. Include costs for over-recruiting as business professionals have a higher no-show rate.


Be realistic about timing. Not only does the recruiting take more time, but professionals are likely to be more time pressured. Consider shorter sessions if the research objectives allow to yield more participants.
Responsibilities Beyond the Recruit
"We would sometimes uncover professional market research participants." -- Jacqueline Jordan, Group Director of Research, Huge.
The recruiter you're working with should provide daily updated grids with complete participant responses to screening questions. Carefully check these for any issues. Concerns should immediately be brought to the attention of the recruiter so adjustments can be made. This can mean canceling booked participants who aren't completely qualified and recruiting additional participants.
Recruiters should be responsible for sending out necessary information to booked participants. This includes:
Confirmation emails that state the time and date of the interview, address and directions if the interview is in person or any tech information if the interview is remote
NDAs or other legal documents specific to the project with instructions for signing and returning
Project-specific instructions and pre-work
Reminder emails and/or texts sent leading up to the interview
Following the interview, the recruiter will be responsible for paying incentives. There is usually an additional charge for this service.
With traditional recruiting the recruiter and their staff are the sole contacts with your participants so you will need to trust that these steps are being taken.
So, Where's The Secret to Fast, Turn-Key and Successful B2B Research Recruiting?
"Find, verify, schedule and pay—all on one platform."
Now that you know the struggle of traditional B2B recruiting, there is a solution.
Respondent has created a robust one-stop-shop to easily find, verify, recruit, message and pay B2B research participants.
Respondent starts with a database of 1.7 million business professionals, all verified as to their title, company, specialties, what they do and more, and are already confirmed as to their willingness to participate in research projects.
Here's how Respondent works:
Define and request: Tell Respondent exactly what the requirements are for your research participants including: location, job title, industry, company size, skills, software usage, income and more. You can add your own screener questions as well.
Invite the qualified (and only the qualified) to apply: Respondent pushes your project out to qualified members with verified work email addresses from their database with an invitation to apply to participate.
Broadcast beyond the database: If needed, Respondent will expand their network of potential participants through social channels, communities and their own network of referral partners.
Review and select:

You

review potential participants' LinkedIn profiles, demographic information and screener question responses yourself. You can even message participants directly with follow-up and additional questions to ensure you have the "right" participants.
Invite, schedule, remind: With a single click you can invite a participant to join your project and they will be connected to the calendar you provide to schedule themselves for the research. Respondent then automatically sends several reminder emails and texts to avoid no-shows.
Pay: Respondent takes care of payment upon your approval.
In case you didn't get the enormous difference between traditional B2B research recruiting and management and Respondent, take a glance at this chart illustrating the key differences between traditional B2B recruiting and Respondent recruiting and management: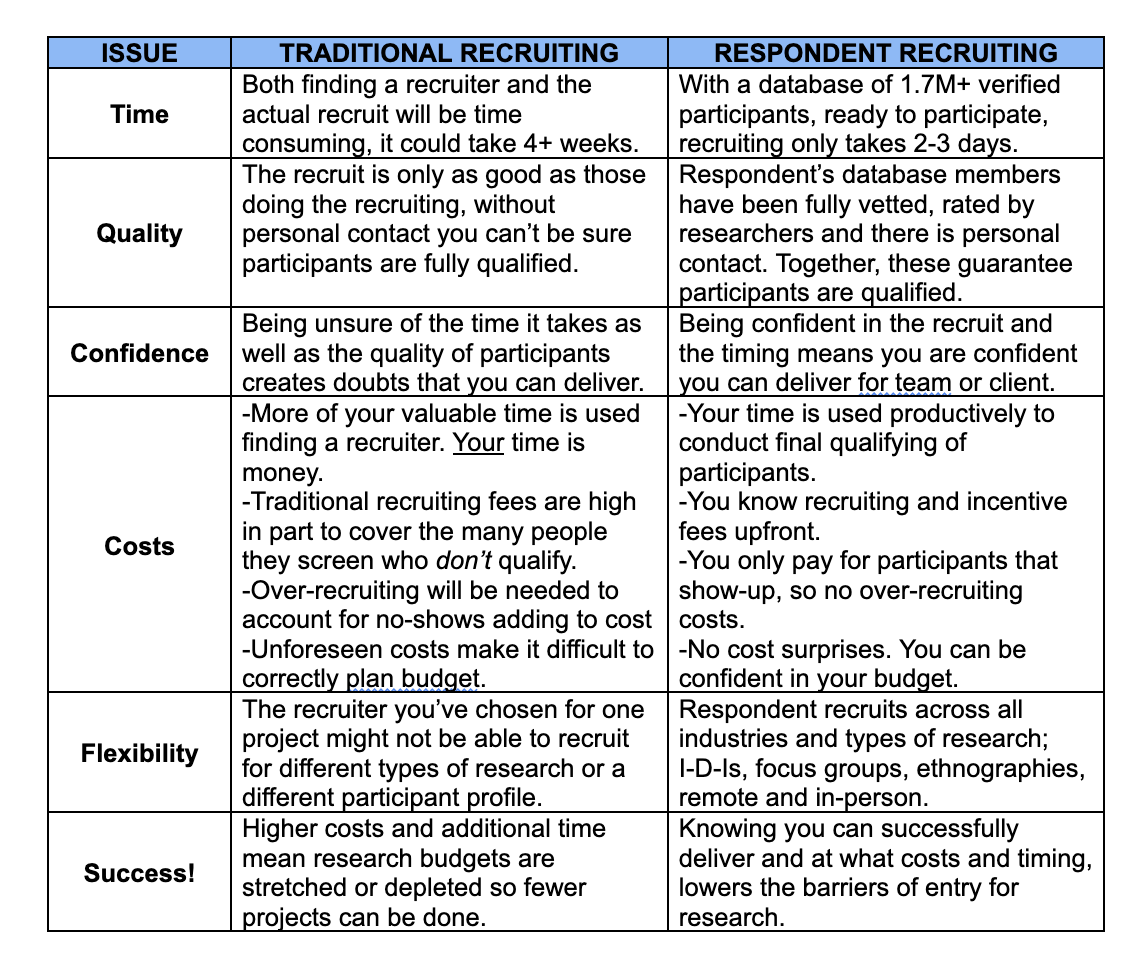 A Final Word from A Happy Client
"The participants have been who they say they are, we can verify them, and they're super responsive. When we turn to our clients, we know we can produce quality insights. Respondent has helped us do better research and be better researchers, especially since we don't have to worry about logistical things when it comes to recruitment." -- Jacqueline Jordan, Group Director of Research, Huge
Try Respondent for free today!