User Research Recruitment
Screener Survey Guide: How to Screen for Unmoderated Studies
Screener surveys are an important tool for research participant recruitment. We have a guide to help you create effective screeners for unmoderated studies.
---
Recruiting participants for user research is an important early step in any research project, and finding the right research participants is critical to the success of your study. Our most valuable research is done only when we work with participants with experiences and behaviors relevant to the questions we are trying to answer.
Thus, the screener survey. Screener surveys are a tool to help user researchers find the most relevant participants for your research study. They include a short set of questions to help you gather information about potential participants before inviting them to your study. From there, the survey efficiently identifies those who represent your target audience and can exclude anyone who doesn't qualify from consideration.
Why are screener surveys important?
They ensure participants are high value and relevant to your research study.
They ensure participants have the appropriate experiences, skills, and goals to provide insightful information.
They can help you identify participants with a mixture of behavioral or demographic qualities to ensure your study pulls from a diversity of experiences.
They help you avoid wasting time or money working with participants who cannot meaningfully engage.
They save you time by efficiently filtering out participants who are not qualified for your study.
While they seem like a relatively simple tool, screeners are important to get right. If questions are not thoughtfully designed, you could recruit participants who aren't quite fit for your needs, are dishonest in their answers, or aren't able to engage in a valuable way. Likewise, if the survey order and logic are poorly constructed, you could filter out potential participants who fit your ideal participant criteria and miss out on valuable, insightful opportunities.
With that in mind, there are some best practices user researchers can follow to ensure that the participants they recruit are qualified for a high-value research study.
Introducing Unmoderated Study Screener Survey Guides
Effective screener surveys are especially important for unmoderated projects where you are unable to gauge a participant's ability to engage or pivot your line of questioning midway through a session. Additionally, B2B participant recruitment presents a handful of additional recruiting challenges. Therefore, it's essential to have an exceptionally well-designed screener.
To help you ensure effective recruitment, we've put together how-to guides to screen for B2B and B2C unmoderated studies.
With these guides, you'll receive the following:
A step-by-step guide to creating your own screener surveys for effective participant recruitment
A sheet of best practices for creating a dependable screener survey to avoid common recruiting pitfalls
An example survey screener to see how screener questions are put into practice
Your own set of downloadable questions to get you started creating your next effective participant recruiting screener survey
Screener Survey Guide
Download your guide to screening for B2B Unmoderated Studies.
Learn how to create a survey screener, understand best practices, and access downloadable screener question examples.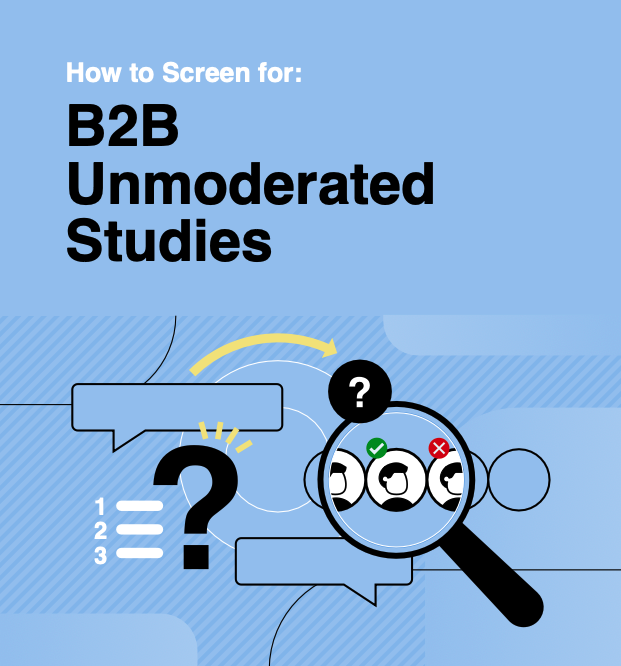 Screener Survey Guide
Download your guide to screening for B2C Unmoderated Studies.
Learn how to create a survey screener, understand best practices, and access downloadable screener question examples.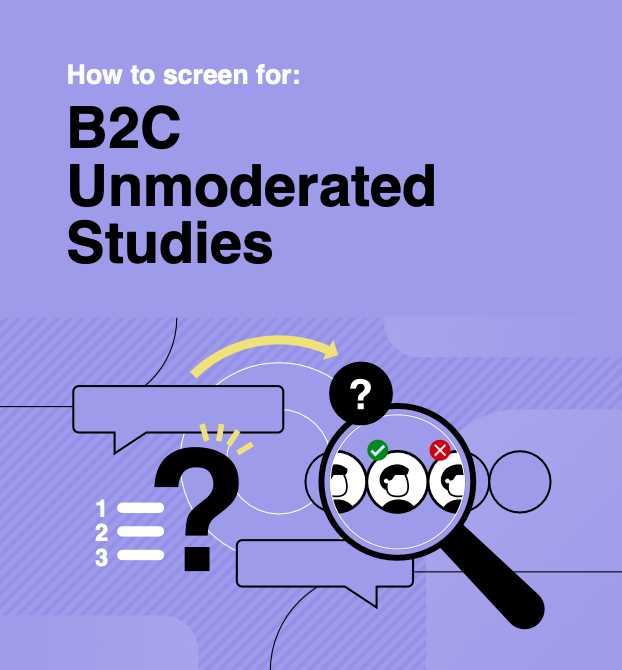 Methodology
These guides go through the appropriate steps for creating effective screener survey questions based on user research best practices and what we've seen works best here at Respondent.
We've also provided a set of downloadable questions that you can personalize to fit your needs.
We reviewed hundreds of unmoderated research project screener surveys and identified which worked well to recruit participants, and why.
Effective screener questions were broken down into categories by audience type, participant criteria, and research goal.
Questions were then categorized and tagged by type (behavioral, demographic, psychographic, and ability to participate) and criteria (job function, familiarity with skill or subject matter, frequency and recency of behavior, ability to make decisions about product purchase, and ability to articulate).
We then created example screener questions by type and criteria based on what we've seen works well to accurately qualify participants.